AT41500P Refmatic Power
Description
Delphi's new model of refrigerant charging station:
Refmatic POWER (AT41500P)
General characteristics
*Completely automatic, but with the possibility to choose the manual operating mode
*Provided with a high accuracy electronic vacuometer
Specific characteristics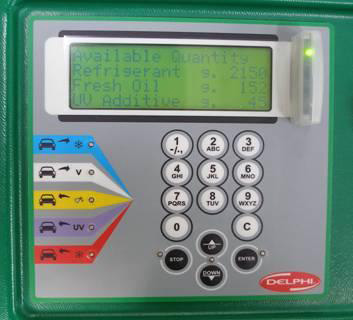 *New design, refreshed but with the same family feeling
*Provided of a back cover, to protect the machine from dust and dirty.
*A new wide display and a new software, that provide all information of the charging cycle, selectable in 15 different languages, as well:
I-UK-D-F-E-P-NL-PL-GR-CZ-SF-SK-SLO-TK-ROM.
*A memory card key that integrates a car's database (more then 18.000 lines) selectable per make, model, prod. year, engine, engine type, refrigerant type, compressor oil and refrigerant quantity needed.
A key is requested to start the machine.
If customers will desire to update their database, can buy yearly a new key with added models. Having no access code, can be used on additional machines (customer that bought three machines can buy one updated key only)
**Provided with solenoid valves, that eliminate manual valves on the old models
**Dye injector integrated, with electronic scale, to detect any possible AC circuit leakage
**Provided of a graphic printer to produce all information on the charging cycle (Refmatic POWER version), while is optional on the Refmatic ACTIVE model.
For more information, email
gk_son@spidernet.com.cy